Daikin Aircon Servicing
Even though routine maintenance inspections are not required, it is good to have Daikin aircon service from time to time. Even if there are no obvious flaws, we advise having an air conditioner tested at least once a year to be sure it is operating at peak efficiency. You must first determine how much refrigerant the unit can carry in order to determine whether your air conditioner is subject to required Daikin aircon service checks. Daikin aircon servicing in Singapore is not necessary if the unit has less than three kg of coolant. 50 kilograms would require twice-yearly maintenance, whereas 5 kg would require annual maintenance. Daikin aircon servicing must be performed at least four times a year on commercial air conditioners that use more than 500 kg of refrigerant.
When to Book a Daikin Aircon Service?
The warning indications that an air conditioner may require immediate Daikin aircon service are listed below.
The filters in your unit can be clogged if it is making more noise than usual. Utilise a vacuum cleaner to dust the appliance. There can be a mechanical problem if the noise keeps happening or if you hear chatter or rumbling and this can only be resolved through Daikin aircon servicing.
The coolant level is too low if it takes an air conditioner longer to chill a room.
Your unit may need Daikin aircon service for installation issues if you see excessive energy usage from the appliance.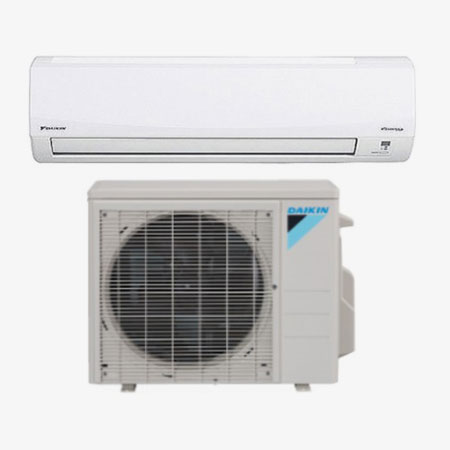 Daikin Split Type Air Conditioner
The most common air conditioner for homes and small retail shops. This split type aircon has an indoor and outdoor component.
Daikin Remote Controlled Split Type Air Conditioner
Can be installed as a ducted multi-split type air conditioner. This model only has one outdoor component connected to several indoor components.
Daikin Cassette AC
Installed in the ceiling, Daikin cassettes are commonly used in offices and stores. They require a special kind of maintenance.
Benefits of Daikin Aircon Servicing
Your Daikin aircon is a necessary device that protects you from the oppressive summer heat. However, it experiences normal wear and tear like other appliances do, necessitating prompt servicing to ensure excellent performance. The lifetime value of the air conditioner is increased with regular maintenance, which also reduces your energy expenses. Therefore, routine Daikin aircon servicing should not be disregarded, and a qualified expert should be called for it so they can check for gas leaks, clean the filters, and handle other problems. Here are some advantages of Daikin aircon service.
Over the course of the season, as you use your air conditioner, dirt and debris build up inside the components and filters. These particles may be released into the indoor air, lowering the air's quality. The technician sterilises the system when doing routine Daikin aircon servicing so that the air circulated is clean and you may breathe more easily.
For an air conditioner to operate successfully and efficiently, its filters, coils, and fins must receive regular Daikin aircon service. When proper maintenance is neglected, the performance of the air conditioner will gradually deteriorate while energy consumption will gradually rise.
A professional licensed air conditioning firm, like GoodCool Aircon Servicing, may increase the total lifespan of your system by servicing your air conditioner.